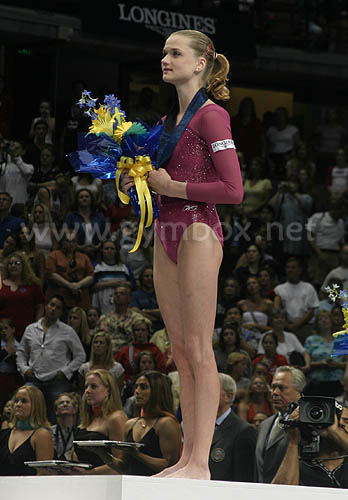 Svetlana Khorkina
Born: January 19th, 1979
Hometown: Belgorod
Coached by: Boris Pilkin
Here are our Picture galleries about Svetlana
There's a lot of publicity about the current World All around champion, and Olympic and European Champ on bars. No doubt she has one of the most brightest palmares i've ever seen
gold on bars at Europeans in Götheborg 1994
gold on bars at Goodwill Games 1994
gold in the AllAround at Europeans 1998 in Stīpetersburg
gold on bars at Worldchampionchips in Sabae 1995
gold in the AllAround at EuropeanCup in 1995
gold on bars at Worldchampionchips in Puerto rico1996
gold on bars at Europeans in 1996
gold on bars at Olympics in Atlanta 1996
gold in the AllAround at Worldchampionhips in Lausanne 1997
gold on bars at Worldchampionchips in Lausanne 1997
gold in the Allaround at Europeans in StīPetersburg in 1998
gold on bars at Europeans in StīPetersburg in 1998
gold on floor at Europeans in StīPetersburg 1998
gold on bars at Goodwill Games 1998
gold on bars at Worldchampionchips in Tianjin 1999
gold on bars at Europeans in Paris 2000
gold on beam at Europeans in Paris 2000
gold in the AllAround at Europeans 2000 in Paris
gold on bars at Olympics 2000
gold on bars at Goodwill Games 2001
gold in the AllAround at Worlds 2001
gold on bars at Worlds 2001
gold on vault at Worlds 2001
gold in the All Around at Europeans 2002
gold on bars at Europeans 2002
gold in the All Around at Worlds 2003
gold on bars at Europeans 2004
and many many first places in the grand prix / worldcup circuit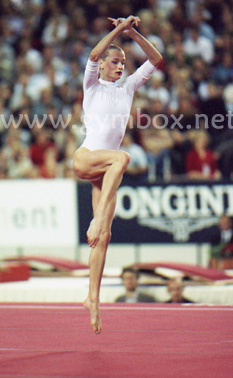 World Championships in Ghent, Qualification (left) and Event Final
Here's Svetlana with her pic in the Magic of Grace calendar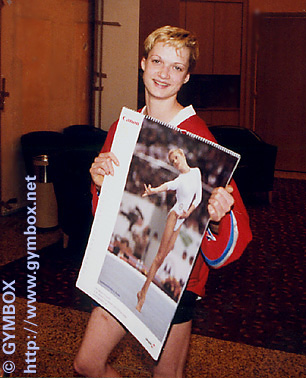 We have some small information she gave us at Swiss Cup 98
On the 2nd Final Day at Swiss Cup 98 we could speak Svetlana for a short moment.
We couldn't make a big interview (missing a translater), but we gave her some written questions in English and she said that she wants to try answering the questions in english (She seems to be open to each challenge). We got back the paper at the end of the competition and here is what she has written:

Favourite event?
Assymetric bars, Olympic Games 2000
When did you started with gymnastics?
When I was 4 year old.
Favourite gymnast when you started gymnastics?
Svetlana Boguinskaya.
Gymnasts you admire now (Gymnastics style or because she is a good friend)?
Nemov !!! (It was Svetlana who made the exclamation marks, not the webmasters)
Which skill in gymnastics you like most to do?
Assymetric bars (It seems that she confused skill and event, but we all knows what she means).
Which skill you hate but you need it (because it's a basic skill or has a high start value)?
Vault.
Which was the most impressing competition to you?
World Champion Chips 1997 at Lausanne.
If you couldn't do gymnastics, which sport would you do?
Tennis.
Would you give back compulsory to elite gymnasts if you could decide that?
No.
In Ice Skating are A and B scores. Do you think this would works in gymnastics also?
Yes.
Do you have a hobby outside of gymnastics?
Reading books, music and photos.
At least, you want to say something to the gymadmirer who are reading this.
The best wishes only.
For more infos about Svetlana go to her file at Olympic Euro Gym