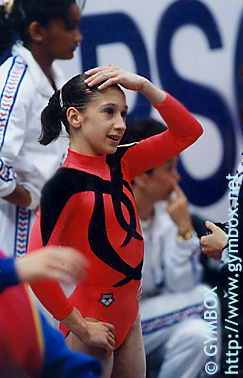 Sara Moro de Faes
Born: May 11th, 1984
Hometown:
Coached by: Jesus Carballo Sr.
Sara is the current Vize National Champ of Spain. She gave us at DTB-Cup 99 the follow information about herself:
When did you started with gymnastics?
At age six at Unclu de Astorias.
What are your favourite apparatus?
Bars and Floor.
What are you doing in your freetime?
Listening music, Popmusic but no techno!
Whats your favourite gymnast?
As person Simona Amanar, but in general kind of view of gymnastics i like how the Russians do work.
Whats your proudest achievement so far?
10th AllAround finish at Worlds 1999
The picture below has been taken at official podiumstraining at Worlds 99
The pictures below has been taken at Teamcompetition at Worlds 99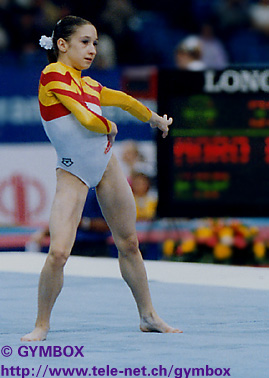 The pictures below has been taken at AllAround Competition at Worlds99
The pictures below has been taken at DTB Cup 1999 in Stuttgart