Janine Zürcher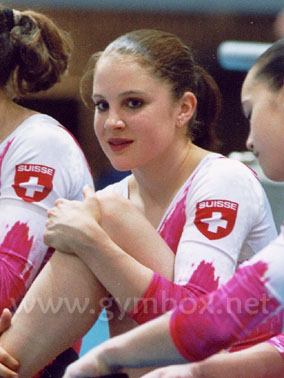 Born: February 5th 1986
Hometown: Rehetobel
Coached by Marianne Steinemann
Family Facts:
Urs and Gaby Zürcher, my father plays soccer. Melanie and Tamara are my younger sisters. Tamara is doing ,,Geräteturnen'' ( gymnastics for women including rings)
Which was the most interesting country you've seen?
Spain, I liked the creeks and I was impressed by Barcelona too.
Favourite event/apparatus?
floor
Favourite gymnast when you started gymnastics?
I was a fan of Natascha Schnell (former Swiss National Champion)
Gymnasts you admire now?
Verona van de Leur
Which element in gymnastics do you like most to do?
Akroseries on floor
Which element do you hate, but you need it (because it's a basic skill or has a high start value)?
Jägerrelease on bars
About which skill you are dreaming, you are thinking: wow, when I could do that?
Double layout Yourtschenko on vault
Would you give back compulsory to elite gymnasts if you could decide that? Why?
No, in my view everybody should do the element he is able do best.
In Ice Skating are A and B scores. Do you think this would works in gymnastics also? Why?
No, B scores are questions of personal taste.
Which are your favourite lessons in school?
First of all the languages English and French
Are you in contact with elite-gymnasts, who are not competing for your country?
No
Do you have a hobby outside of gymnastics?
I like music and reading very much
If you couldn't do gymnastics, which sport would you do?
I like ballsports like Soccer or Volleyball
Which situation in gymnastics was most guiding for you?
The move from the regional center Rüti to Macolin the national trainingcenter of Switzerland.
Here in Central Europe gymnastics isn't that popular.What gives you the motivation and power to do the hard training daily?
Absolutely I would like to compete in a big meet !
Additional I enjoy to move myself.
Thank you very much
These pictures below were taken at Tri meet SUI-NED-FRA in Aigle 2003Th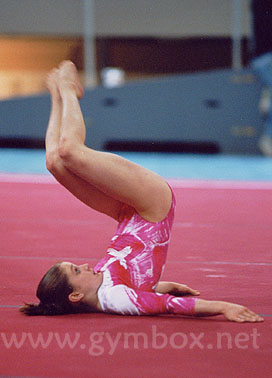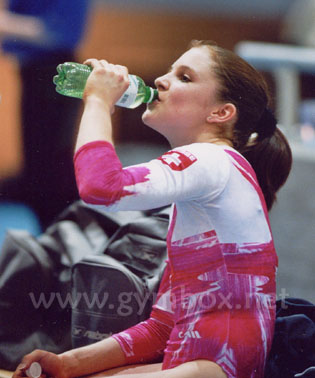 This picture below was taken at European Championships in Patras 2002