You grow up in Mallorca, was there when you went home a special welcome after your title on floor?
Yes, the special welcome was exactly in Manacor, my hometown.
Tell us more about this event, please.
We had a huge "fiesta".
Everybody came to the party, the neighbours and the mayors, and the band of the
city played at the party. There were 2000 persons at the party.
And in any newspaper all over Spain and its isles were my photos.
Favourite gymnast when you started gymnastics?
I didn't have a favourit gymnast because gymnastics were never shown on TV, and I didn't know other gymnasts

Gymnasts you admire now?
Sara Moro from the spanish team
Do you have an element or a combination in your gymnastics, which is any special? (Difficult or original)
My end in parallel bars-triple flyaway

Which element in gymnastics do you like most to do?
Dancing and the rhythm on floor in general

Which element do you hate, but you need it (because it's a basic skill or has a high start value)?
pirouettes on bars

About which skill you are dreaming, you are thinking: wow, when I could do that?
Double layout on floor

Would you give back compulsory to elite gymnasts if you could decide that? Why?
No, because itīs not beautiful for the competition that everybody do the same exercises.
Spanish gymnasts are well known for their good lines and flexibility, how many hours do you have ballet in your training schedule?
An hour every day
In Ice Skating are A and B scores. Do you think this would works in gymnastics also? Why?
I donīt know as Ice Skating works, I'm sorry.
Which are your favourite lessons in school?
History

Are you in contact with elite-gymnasts, who are not competing for your country?
No

Do you have a hobby outside of gymnastics?
Reading and listening to music.
If you couldn't do gymnastics, which sport would you do?
Synchronized swimming
Can you please tell me about the current status of the rehabilitation of Sara Moro.
Sheīs getting better, sheīs starting to train again (january 2003)
Laura Martinez and Esther Moya had retired, which gymnast are now train for Anaheim?
Lenika de Simone, Patricia Moreno, Laura Campos, Sara Moro, Cayetana Medina, Tania Gener and me.
Can you tell us a bit about the Spanish Juniors which will be age eligible in Anaheim?
All the ones I named in the last answer are age eligible in 2003. They're trainig so well and they will probably do a good competition in Anaheim
Thank you very much
more Elena infos in the Gymmagazine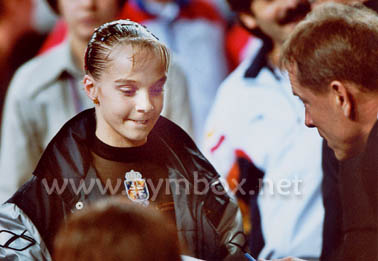 Elenas first interview after her victory on floor
Below two older pics from the Junior European Championships in Paris 2000