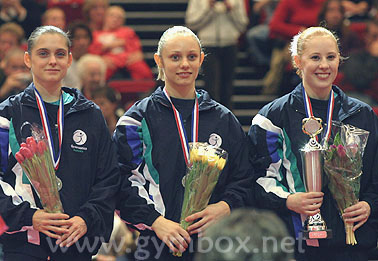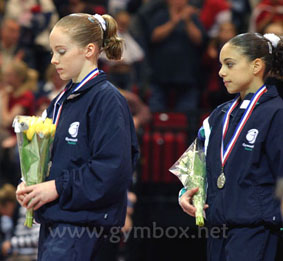 Lisa Skinner, Danielle Kelly, Allana Slater,
Groningen 2003
Danielle Kelly Groningen 2003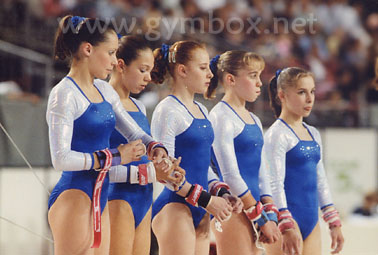 Alexandra Croak, Jessica Zarnay, Allana Slater, Jacqui Dunn, Allison Johnston
World Championships Ghent 2001
Kylie Tanner and Peggy Liddick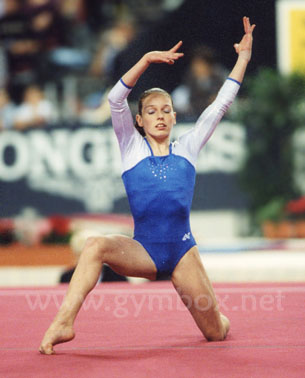 Kylie Tanner at World Championships in Ghent 2001

When we were at the 2000 European Championships, we had arranged to meet Peggy Liddick, to present her with the Calendar 'Magic of Grace', in which there are pictures of Allana Slater, Trudy McIntosh and Jacqui Dunn, some of the best Australian gymnasts.

When she had a look at the picture of Allana, she smiled and said: "oh legs together!" Then she had a laugh and meant: "This is the kind of way how coaches are looking at pictures with their gymnasts!"

We then could ask her some questions on topics which we are interested in.

JS: Can you tell us exacly how the procedure of selection for the Australian
Olympic Team will go?
PL: Well, at July will be a Tri meet between Australia-Ukraine-Belarus in Perth, the town of Allana Slater. This a first part of trial procedure, then the Trials itself will held at the Sydney Superdome, the Olympics venue. The first ten girls of this Trials will go to the final Olympics training camp.

JS: Can we expect new combinations or even new skills from the Australian gymnastics programm during the Olympics? What changes have been made in comparaison to last year's World Championchips?
PL: We work on it, but it is still uncertain that they will be ready for the Olympics. Maybe a new vault for Allana, to make her more competitive in the All Around. Trudy is improving a lot on her vaults. In recent times she stabilized the landings, with the many repetation she did.

JS: In all those many years of coaching, do you have learned a secret to
keep your nerves calm?
PL: Stable Routines! Sometimes I saw coaches letting gymnasts compete with unstable programs. With me as a coach, never a gymnasts will go to a competition with an unstable program. Consistency is the key to success.

JS: You had a lot of success, like the Olympic Gold with Shannon Miller. But what was your best moment in gymnastics, not related to medals and victories?
PL: That my continuing friendship with Shannon is still going on, has survived the competive era. We are mailing to each other regularly, and to me it is like a mother-daughter relationship. I saw so many coache-pupil relations being severed when the competive are was closed, this seems very sad to me.

JS: We heard about a possible comeback of Shannon Miller. What can you tell us about it?
PL: Shannon is seriously trying to make it possible for herself to add
something valuable to the Team when they call on her.

JS: What are our impression of these European Championships, here in Paris?
PL: All teams are so close together, it is such an exciting competition. Despite this fierce competition, there is also great respect between the different teams, I have nocited. The top nations should know they can't make any big mistakes in Sydney, because Australia will be there to jump right on them!
We have spoken about the fact that Allana and Trudy gained a lot of fans here in Europe, while competing in these many meets held in Europe over the last half year. About the fact that US girls are rarely are seen in Europe she said: "Maybe this because in the USA there is this system with the Clubs competing
amongst each other, a completely different system compared to many other
countries."

13 May 2000, Relais Mercury Paris, France.