Adrienn Varga
Born: August 6, 1980
Hometown: Békéscsaba
Coached by: Jozsef Lukacs
Best event: Vault
Since 1995 Worlds she represents Hungary on the international gymnasticsscene and since then she gained a lot of fans around the world all impressed of her sunny personality, womenshood and artistry talent in her gymnastics.
She shines most on vault, on that apparatus she was the Europeanchamp in 1998, but l like very much her barsdimounnt also and on floor she has a very well choreographed routine. In the code is a D skill named after her on bars: Layout half-in, Picked front half out .
In 1999 she competed at Cottbus Grand Prix but was injured and out of competition the most time of the year , include Worlds in China.She represented Hungary at Opening ceremony but didn't compete.
In 2000 at Europeans in Paris she has competed vault but didn't qualified for apparatus final.
The picture below has been taken at Cottbus Grand Prix 1999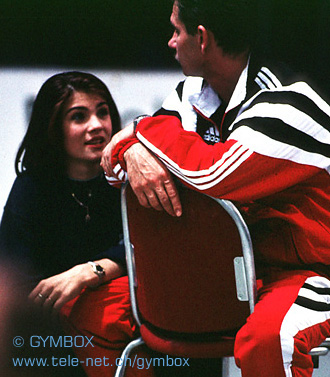 The Picture below has been taken at Europeans 1998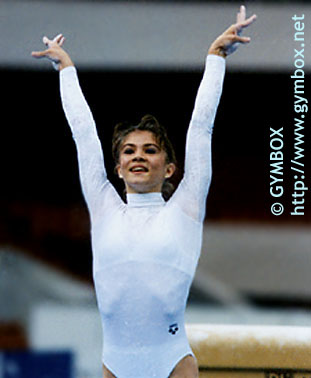 This Picture below has been taken at Swiss Cup 1998
On the 2nd Final Day at DTB-Cup 98 in Stuttgart we could speak to Adrienn. Together with her trainer she filled out our paper. Here is what she has written:
Favourite event?
Vault.
When did you started with gymnastics?
When I was 6 year old, in 1986.
Favourite gymnast when you started gymnastics?
Henrietta Onodi.
Gymnasts you admire now (Gymnastics style or because she is a good friend)?
Svetlana Khorkina, she is a good friend of mine.
Which skill in gymnastics you like most to do?
Dismont from bars (it's a new dismount name: Varga dismount).
Abount which skill you are dreaming, you are thinking: wow, if I coud do that?
I have some skill in my dream, but ..... !
Which was the most impressing competition to you?
European Championship in St. Petersburg, 1998.
If you couldn't do gymnastics, which sport would you do?
Fittnes.
Would you give back compulsory to elite gymnasts if you could decide that?
No, I hated some element, what weren't for me.
In Ice Skating are A and B scores. Do you think this would works in gymnastics also?
Yes.
Do you have a hobby outside of gymnastics?
No.
At least, you want to say something to the gymadmirer who are reading this.
Good luck for everybody!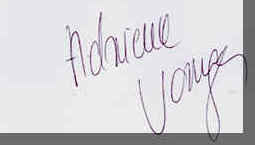 Am Swisscups 98 konnten wir kurz mit Adrienn sprechen. Die Zeit reichte ihr damals nicht, um unsere Fragen zu beantworten. Doch bereits eine Woche später trafen wir sie am DTB-Cup in Stuttgart, wo sich sich kurz Zeit nahm. Hier sind ihre Antworten:
Wann hast du mit dem Kunstturnen angefangen?
Als ich sechsjährig war, 1986.
Welche Turnerin hast du damals bewundert?
Henrietta Onodi.
Welches ist dein Lieblingsgerät?
Der Sprung.
Welche Teile turnst du am liebsten?
Den Abgang vom Stufenbarren (Es ist ein neuer Abgang mit neuem Namen: Varga dismount).
Von welchem Teil träumst Du, denkst Du: Wow, wenn ich das könnte?
Ich habe einige Übungsteile in meinen Träumen, aber ... !
Welche Situation im Training oder welcher Wettkampf war für dich wegweisend und hat dich nachhaltend am meisten beeindruckt?
Die Europameisterschaften 1998 in St. Petersburg.
Würdest du, wenn du könntest, auf internationaler Ebene die Pflicht wieder einführen? Warum?
Nein, ich hasse einige Elemente, die gar nichts sind für mich.
Im Eiskunstlauf gibt es neben dem technischen Wert eine künstlerische Note. Glaubst du, das wäre im Kunstturnen auch einen Versuch wert?
Ja.
Welches ist deine Lieblingskunstturnerin auf internationaler Ebene heute?
Svetlana Khorkina, sie ist eine gute Freundin von mir.
Wenn du nicht turnen würdest, welche Sportart würde dich sonst noch faszinieren?
Fitness.
Hast du ein spezielles Hobby?
Nein.
Zum Schluss, möchtest Du noch noch etwas zu den Lesern dieses Interviews sagen?
Alles Gute für Alle!