Alexandra Soler
Born: Octobre 14, 1983
Hometown: Bézier
Coached by: Frank Legras
In 1997 Alexandra was the French Junior National All Around Champ.
At Junior Europeans 98 in St. Petersburg she competed in the AllAround competition and reached a spot in the eventfinal on beam and placed 7th.
End of the year 1998 she became the French Nationalchamp on floor in the senior division.
In 1999 she was a member of the Worldsteam in China. She competed the AllAround and placed 29th.
Pictures below has been taken at World Championchips 1999.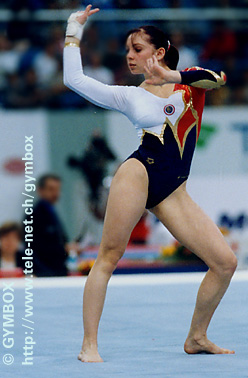 The picture below has been taken during beam apparatus final at Junior Europeans 98.