Alyona Polozkova
Born: August 11th, 1979
Hometown: Mogilev
Coached by: Mikalai Liskovich
Best event: Floor
Alyona represents Belorussia since this state is independent. In Spring 1993 she competed at Junior Europeans at Geneva, her first big international meet (12th All Around and 6th on vault, beam and floor). At this time she used the same floormusic like Svetlana Baitova in her earlier years. A music who express poesie pur.
Later she added five Worldsparticipants and she was a teammember of the Belorussian Olympicteam, who placed 6th.
Her biggest individual succes was winning floor at French International (Bercy) 1998 and in 1997 she won with her Team the European Masters.
Since the retirement of Elena Piskun she is very busy to represent Belarus in different Grand Prix and World Cup meets.
In 2000 she reached a very good second place at RCA Challenge, competed at Olympics in Sydney and is still representing Belarus in 2001.
The pictures below had been taken at Worlds 1999 at AllAround Competition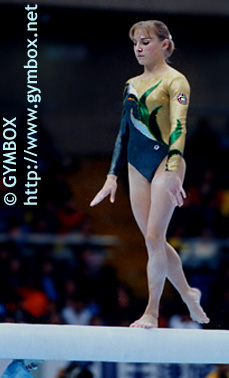 The picture below has been taken at DTB Cup 1999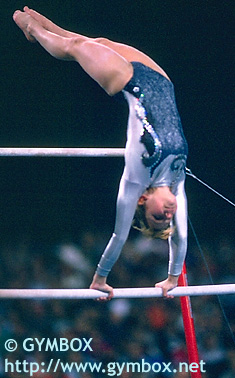 The Picture below has been taken at DTB Cup 1998