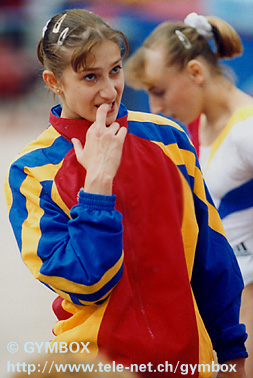 Maria Olaru
Born: June 4th, 1982
Hometown: Falticenti, Bucovina
Coached by: Now Octavian Belu, but in earlier years
she was a pupil of Ecaterina Szabo
Nickname: Mary
Family Facts: Maria's father died when she was only four years old.
Maria was a succesfull Junior in 1997 and no doubt she would have made the Worldsteam if she would been age eligible.
In this year she won the ITC as Induvidual, Trophee Massilia and a Juniormeet in Japan also.
At Europeans '98 in St. Petersburg she just competed vault due to an injury. But she did this single event very succesfull by winning the silvermedal (tie). Rest of the year she was out of competition due this injury.
In 1999 she was competive again and her consistency helped her to win the AllAround at World Championchips.
She retired from international competitions end of 2000 after a succesfull Olympics (gold Team and a Silver in the AllAround ) the new code 2001-2008 is not made for tall gymnasts she said.
The Picture on vault below ( black leotard ) is part of the Gymnastics Calendar Magic of Grace.
The Pictures below has been taken at Worlds1999.