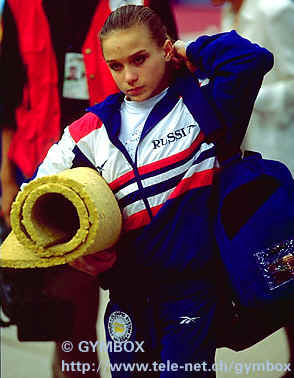 Eugenia Kuznetsova
Born: December 18, 1980.
Hometown: Puschkin (named Zarkoje Selo also).
This is the village where different czars
had their residence.
Coached by: Alexander Kirjaschov
Best events: beam and bars
In 1995 she won a International Juniormeet over names like Karpenko, Atler, Dantcher, Prodounova and Tugurlan.
In the following years she was constantly a teammember for Russia in 4 Worlds two Europeans and an Olympic!!
At Europeans 98 in St. Petersburg she reached her individual succes at least with winning the Beamtitle.
I'm a huge fan of her new barroutine. With this split legsgiants and the split double layout dismount, she created her own trademark.
To add that her consistency is a dream to each coach, she never had a fall in all Teamcompetitions she ever competed!
At Worlds 99 she competed bars in the Qualification and Bars and Beam at Teamfinal.
The Pictures below has been taken during the official Podiumstraining and Qualification.