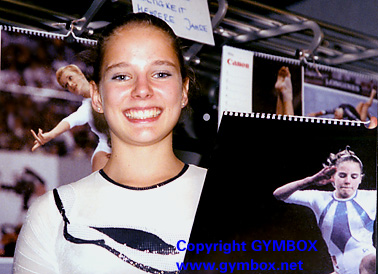 Dagmar Fehrenschild
Born: June 15th, 1984
Hometown: Bergisch Gladbach
Place of birth: Düsseldorf
Coached by: Dieter und Ursula Koch
Choreographer: Valentina Mondzolewskaya
Floor Music: Yurochka
Here's an interview made after Europeans 2000 in Paris
(deutsche Version am Schluss dieser Seite)
When did you start with gymnastics and who was your favourite gymnast at this time?
I started in 1991 and my idol was Svetlana Boguinskaya. Today my favouritel is the russian trio Khorkina, Produnova and Zamolodchikova.
Do you have any siblings?
Yes i have an older brother and an older sister.
Are they involved in gymnastics, too?
Yes my sister did gymnastics also but not so many hours as i do.
Is there an element or combination which makes your gymnastics pecial?
I think my layout double full dismount on bars, bars is my favourite apparatus.
Is there a combo or an element you are dreaming of. where you think «oh wow, i would like to be able to perform this»?
Yes this is the layout double double!
Have you ever tried to perform it?
Yes, in training while we didn't have any competitions, but I didn't succeed the way I wanted to!
Do you go to a special school?
No i go to a regulary school in Bergisch Gladbach, during competitions we don't have to go there.
But during the competitions you miss a lot of stuff?
We have a teacher who explains to us all this missed stuff.
Are you happy with the results of the European Championships in Paris?
Yes, I am happy. The European Championships in Paris belong to the best
moments in my career. There were other successful moments in my career such as the European Junior Championships in Russia, when we were 7th with our team. Or when I became four-times-junior-champion of germany last year.

Were there difficult moments?
When the team missed the qualification for olympia 2000 in China last year.

What's on now?
We try to convince the NOK to change their minds, as we reached a good
result. I was 13th in the qualification on bars and 16th in the AllAround (the NOK wanted us to take part in the final of 6th or to be 10th in All Around).

On August 6th NOK of Germany will decide about Olympic Participant of Dagmar Fehrenschild and Birgit Schweigert.
Thank you very much for the interview.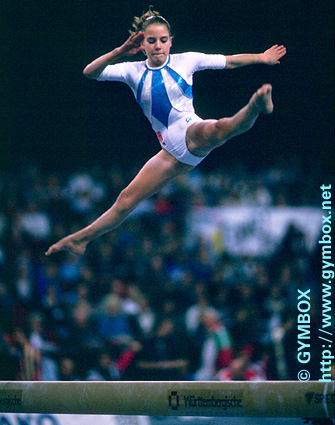 The Picture above is the pic whe have chosen for the Magic of Grace calendar.
This Picture belov has been taken at Grand Prix Zürich 1999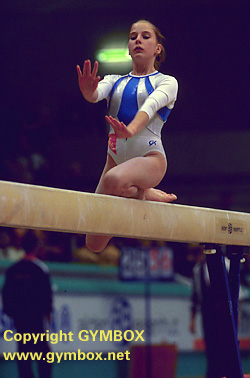 This Picture has been taken at DTB Cup in Stuttgart 1999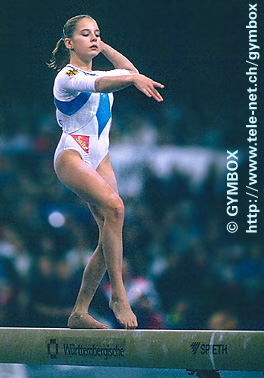 Hier ist ein Interwiev, das ich mit Dagmar an den Europameisterschaften 2000 in Paris gemacht habe.
Wann hast du mit Turnen begonnen und wer war damals dein Vorbild?
Das war 1991 und mein Vorbild war Svetlana Boguinskaya. Heute ist es das
russische Trio Khorkina, Zamolodchikova und Produnova.

Hast du Geschwister?
Ja, eine ältere Schwester und einen älteren Bruder.

Haben die auch geturnt?
Ja, meine ältere Schwester, aber nicht so viele Stunden wie ich.

Gibt es in deinem Turnprogramm eine bestimmte Kombination oder einen
Uebungsteil der aussergewöhnlich ist?
Den Barrenabgang Doppelsalto mit ganzer Schraube. Der Barren ist auch mein
liebstes Gerät.

Gibt es einen bestimmten Uebungsteil von dem du träumst, über den du denkst:
«Wow wenn ich dies turnen könnte?»
Ja, den gestreckten Doppelsalto mit Doppelschraube Abgang am Barren.

Hast du den schon mal versucht?
Ja im Training, in einer wettkampfsfreien Zeit, es hat aber noch nicht ganz
so gut geklappt.

Gehst du in eine spezielle Schule als Spitzensportlerin?
Nein ich gehe in die ganz normale Schule in Bergisch Gladbach, wir werden freigestellt während den Wettkämpfen, wie jetzt für die Europameisterschaften.

Aber du hast dann viel Stoff verpasst in dieser Zeit?
Die Schule stellt mir einen Lehrer zur Verfügung, der mit mir alles nacharbeitet.

Bist du mit den Ergebnissen der Europameisterschaft hier in Paris zufrieden?
Ja ich bin zufrieden, diese Europameisterschaften gehören auch zu meinen
besten Momenten in meiner Karriere. Andere gute Momente waren die Junioren-Europameisterschaften in Russland, als wir mit der Mannschaft siebte wurden und als ich vierfache Deutsche Juniorinnenmeisterin wurde letztes Jahr.

Was waren schwierige Momente?
In China die verpasste Olympiaqualifikation mit der Mannschaft.

Wie geht es nun weiter?
Wir versuchen das NOK umzustimmen, da wir gut abgeschnitten haben. Ich wurde 13. am Barren in der Qualifikation und 16. im Mehrkampf (das NOK hat Finalteilnahme in einem Gerätefinal oder 10. Platz im Mehrkampf als Limite gesetzt).

Herzlichen Dank für das Interview