Adriana Crisci

Born: July 24, 1982
Hometown : Milano
Coached by: Paolo Pedrotti

Adriana surprised the World of Gymnastics in 1996 as the Vize Junior Europeanchamp and competed for Italy in many international meets since this Event. Some of them she has won. We saw her at Gander Memorial three times 1996: 4th,1998: 4th,1999: 9th.

Important step was the Qualification for the Olympics with her Team in China in 1999 at World Championchips.

She is so called a typical All Arounder in my view, strong on each event the technical apparatus and on the vault apparatus too.

In 2000 she became the Italian National Champ in the All Around. At Europeans in Paris she could reach a spot in the Event Final on Bars and Floor (7th both).

These Pictures below was taken at Europeans 2000 in Paris.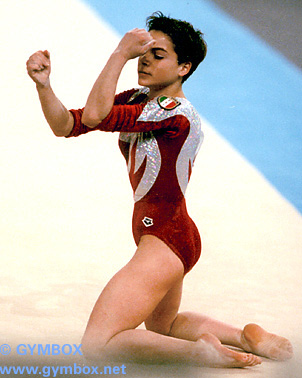 This Picture has been taken at World champion chips in China 1999