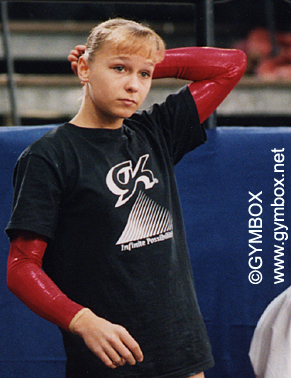 Katja Abel
Born: April 8th,1983
Hometown: Berlin
Coached by: Steffen Gödicke
Club: Berlin Preussen
Family Facts:
Katja is the daughter from the former Olympian Irene Abel (she won with her GDR-Team the Silvermedal at the 72 Olympics in Munich). Today her mother works as coach in Berlin also.
Other:
She was a double in the German TV Daily soap "Hallo Oncle Doc".
Favourite Gymnast:
Svetlana Boguinskaya
-In 1998 she was the German Junior national champ and competed succesfull in different Junior Dual-meets and was a member of the German Juniorteam at Europeans (13th AllAround and 7th Team).
In 1999 she went through a very difficult time with back problems but she decided to stay in gymnastics after more than a year out of competitions.
-In Spring 2000 she had a comback at Cottbus Grand Prix. She wasn´t ready for the Europeans in May, later in this year she competed at Como Cup and won vault and the AllAround Bronzemedal at German Nationals.
-In 2001 Katja was the German Co-AllAround Champion and member of the Worlds team in Ghent.
-In 2002 she took part at Individual World Championships in Debrecen
-In 2003 she won German Nationals again and competed at World Championships in Anaheim.
These pictures below were taken at World Championships in Anaheim 2003 (official Podiumstraining)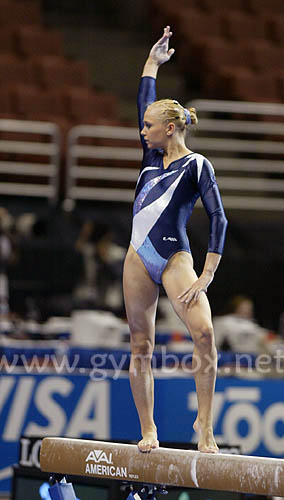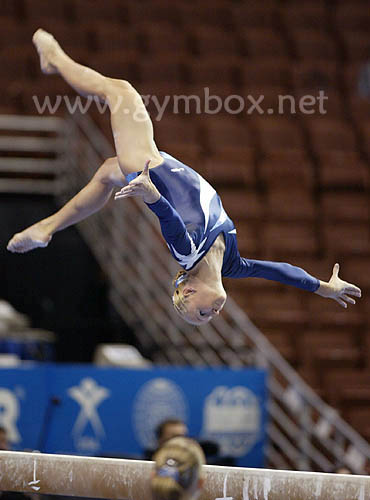 This picture below was taken at World Championships in Debrecen 2002 (Qualifications)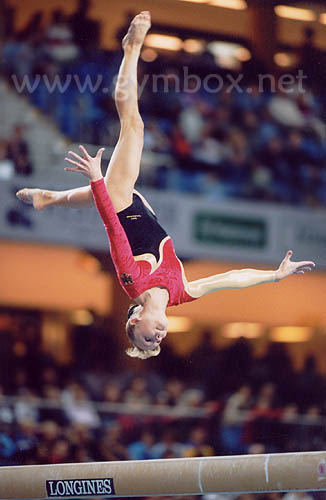 Pictures below were taken at World Championships in Ghent 2001 (Team Qualification)